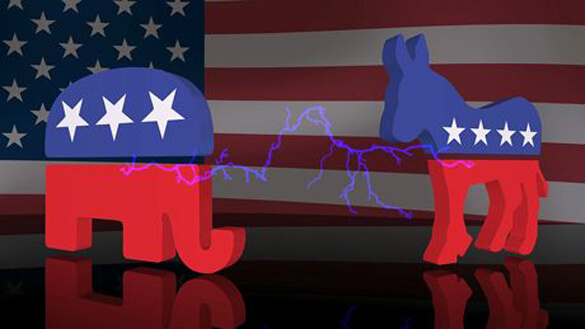 Question from Rodney:  I've been reading your blogs for a long time now Rick, and I've noticed that you write about just about everything.
But one thing I've never seen you write about is politics. Why is that?
I love your perspective on so many topics and I'm sure you could make some great arguments about our country's politicians.
I don't know, maybe you're just not a political kind of person. What's the scoop? 
Rick's answer: You're right, Rodney. I have never written a blog post that's political in nature, and unless something drastically changes I never will.
But that doesn't mean I'm not interested in politics, because I am.
I love my country and actively support political candidates that I feel have our best interests at heart.
But that being said, there are several reasons why I choose not to express my political views online:
1 – I don't have a monopoly on good ideas.
Just because I might hold a certain view about an important political topic that doesn't mean that all opposing views are necessarily invalid.
It simply means we have differing views that we developed over the courses of our lifetimes in response to our differing backgrounds and experiences.
2 – I have great friends of all political persuasions.
I have conservative friends. I have liberal friends. I have libertarian friends as well.
And I treasure each and every one of those friendships.
When I talk to my friends I'd rather discuss things that we have in common instead of things that divide us.
3 – In today's environment it's virtually impossible to change someone's mind about politics.
Most folks have very strongly held beliefs and opinions, and it would take a really strong argument to persuade someone with an opposing view to come around to my way of thinking.
I tried it a few times when I was younger, and unfortunately those attempts never ended well.
4 – I'd rather state my political opinions at the ballot box than on the Internet.
We can get on social media and argue to our hearts' content, but in the end the vote tally is all that matters.
I believe life is too short to spend it arguing over something that I have no control over.
When it comes to politics, the only thing I have control over is my own individual vote. And that's what I choose to use to express my opinions.
Now all of the above being said, I have no problem with others who love to mix it up about politics on Facebook, Twitter or even on their own blogs. More power to them!
There are plenty of political discussions taking place online, and I actually enjoy reading many of them.
If you enjoy engaging in political discussion, I say have at it! State your opinions and argue your points to the best of your ability.
After all is said and done I might not agree with what you said, but as long as you're respectful in your arguments I'll still respect you after you've made them.
And finally, speaking of politics, here's a fantastic short video that shows how to tie a necktie in a great-looking "Double Windsor" knot! (See what I did there?)
Note: As always, you can watch the video at full screen by clicking the "square" icon that will pop up in the lower-right corner of the video after it begins playing.