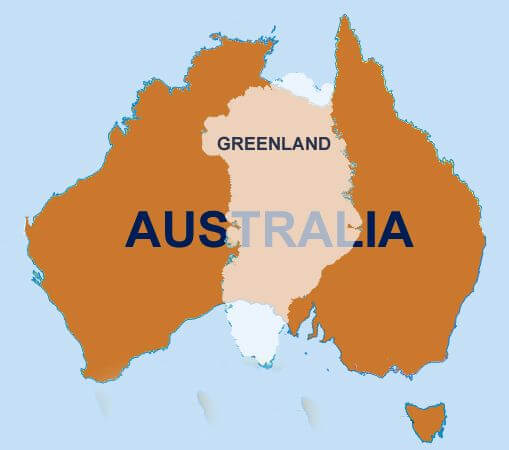 Question from Kevin:  I read something the other day that said Greenland is the largest island in the world.
But Australia is a lot bigger than Greenland, right? Something doesn't add up.
Rick's answer:  You're absolutely right, Kevin. It does seem like Australia should be considered the largest island on Earth.
After all, while Greenland is huge, Australia is over three and a half times larger.
And since Australia meets the dictionary definition of an island (a body of land that's completely surrounded by water) it certainly seems like it should indeed be listed as the world's largest island.
The thing is, although it's technically (and literally) an island, Australia is officially classified as a continent as well.
And for whatever reason, the folks who make the decisions about these things have apparently determined that it cannot be listed as both.
There are several factors that led to Australia being classified as a continent instead of an island, the most important being that it sits on its own tectonic plate (the Australian Plate).
In other words, unlike every other "island" in the world, Australia isn't physically attached to any other continent's tectonic plate. It has one of its own!
Now all of the above being said, not all countries recognize Australia as being a continent. In fact, there is some disagreement about the number of continents in general.
While the United States and most other countries recognize a total of seven continents (the smallest of which is Australia), a handful of others recognize as few as four.
Bottom line: Even though most countries officially list Greenland as the largest island in the world, Australia is definitely a lot larger.
And if one chooses to go strictly by the dictionary definition of an island, it absolutely qualifies.
To finish up, here's a fantastic short video featuring 50 things than can only happen in Australia. Check it out!
Note: As always, you can watch the video at full screen by clicking the "square" icon that will pop up in the lower-right corner of the video after it begins playing.