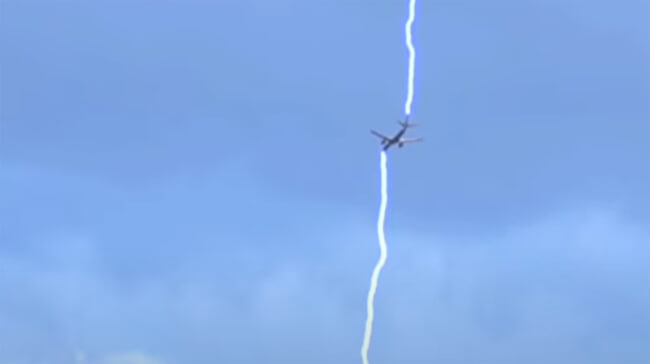 Question from Janine:  I heard on the news the other day that a plane got struck by lightning, but they said it didn't crash and no one on the plane got hurt.
I was shocked when the news guy said this actually happens a lot.
How is it even possible for a plane to get struck by lightning and not crash? 
Rick's answer:  That's a great question Janine, and it's something I used to wonder about myself.
Lightning strikes on flying aircraft don't happen every day, but they do occur on a fairly frequent basis.
So why don't we hear occasional news reports of lightning strikes bringing down airplanes?
Well, the answer lies in a plane's outer skin…
A plane's aluminum shell acts as a Faraday cage which shields the internal components of the plane and its passengers from the massive power surges delivered by lightning bolts.
In a nutshell, the electric charge from a lightning strike flows across the exterior of the plane's metallic skin without ever penetrating the plane. Thank goodness for aluminum!
But wait… Newer aircraft are made of non-conductive composite materials that don't provide any Faraday protection. Shouldn't those plane be knocked out of the sky by lightning?
The answer is yes, but that danger is mitigated by adding a thin layer of metallic mesh to the plane's outer skin. This mesh layer adds the missing Faraday protection that's present by default in aluminum-skinned planes.
But what about the plane's sensitive electronic gear?
Even with their outer shells protecting the insides of planes, on rare occasions a powerful electrical surge can still make its way into a plane's crucial electrical system.
Luckily, that risk is mitigated as well by shielding the plane's wiring and electrical components with metallic Faraday cages of their own. And just to make sure disaster doesn't happen, the most critical electronic devices have duplicates that serve as backups, just waiting to spring into action if needed.
Bottom line: "Faraday cage" protection allows airplanes to take direct hits from lightning bolts in mid-air and keep right on flying to their destination with little to no damage being done to the aircraft.
Here's a very interesting short video that explains all of this in more detail with some rather "enlightening" graphics.
Note: You can watch this video at full screen. Simply click the little "square" icon in the lower-right corner of the video after it begins playing.
Pretty interesting, right?
And by the way, the same type of Faraday cage that protects the passengers of airplanes also protects the passengers inside automobiles when they get struck by lightning as well.
And yes, that does happen from time to time.
The short video below shows an SUV with a family inside taking a direct hit from a lightning strike.
Now that would wake up a sleeping passenger for sure, but everyone inside the vehicle walked away from the incident unhurt.
The same can't be said for the jeep, however. The electronics inside the vehicle didn't have any Faraday protection like the devices inside a plane. All the car's electrical components were fried and the vehicle ended up being totaled.
And now, one final thought…
As explained here, passengers inside soft-top convertibles don't have any Faraday protection against lightning strikes because they aren't completely surrounded by metal.
Just something to thing about the next time you go shopping for a new car.