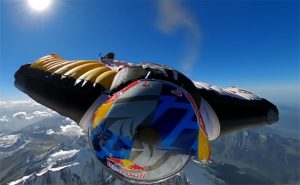 Wingsuit flying is a variation of skydiving in which the divers uses specially constructed suits that essentially convert the human body into its own parachute.
Although a standard parachute is typically used for the final decent back to Earth, most of the flight is experienced using nothing but the wingsuit.
This video shows a pair of apparently fearless wingsuiters gliding from above the very peak of France's Mont Blanc virtually all the way to the floor of the valley below, closely (and dangerously) skirting the side of the mountain as they descend. 
These guys obviously have nerves of steel. Watch and enjoy all the action they recorded with their GoPro cameras.
Note: You can watch this video at full screen by clicking the little "square" icon in the lower-right corner of the video after it begins playing.
Pretty cool, right?
So, are you ready to head over to France and give it a go for yourself? I'll be right there with you for moral support.
Well, I won't actually be right there with you, but I WILL be waiting for you when you hit the ground!