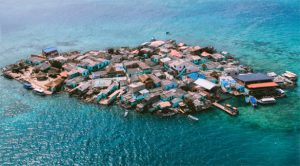 Our world is a huge and fascinating place that's home to roughly 8 billion people.
But as you know, all of those people are scattered around the globe in areas that vary greatly in population.
For example, there are vast areas of wilderness like the US state of Alaska that are extremely sparsely populated, while places like Tokyo have people tightly packed into dense cities.
And as you might imagine, it's the same with the islands of the world… 
Greenland is the world's largest island but it's home to just 56,000 people.
On the other end of that spectrum is the tiny Columbian island of Santa Cruz del Islote.
Although it's only about the size of two football fields, Santa Cruz del Islote is home to 600 people.
The houses and other structures on the island are extremely close together and there is virtually no open land except for a tiny sandy beach.
Of course having that many people packed into such a small area results in a plethora of problems, but the locals seem to enjoy living there.
Today's short video takes you on a quick tour of Santa Cruz del Islote. I hope you enjoy it!
Note: You can watch this video at full screen by clicking the little "square" icon in the lower-right corner of the video after it begins playing.