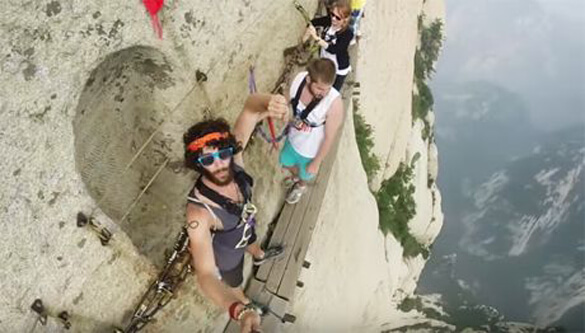 Attached to the vertical face of China's Mount Hua is a "hiking trail" that consists of nothing but wooden planks.
The "Plank Road in the Sky" is some 7,000 feet above the valley floor below, yet it's only a few inches wide.
But don't worry, if you ever decide to "hike" this trail you'll be secured to a cable wish a harness and safety strap as you make your way down the trail.
Just be aware that if you meet someone coming towards you, one of you will have to unhook your safety strap from the cable so you can squeeze past each other. (Surely you would be courteous and volunteer!)
Believe it or not, a hike on this mile-plus high and inches wide trail is a "bucket list" item for lots of folks, and many visitors to China make sure to visit Mount Hua and "hike" the trail at some point during their visit.
As you can imagine, this most likely is the world's most dangerous trail.
Want to see the exciting "Plank Road in the Sky" in action? Check out the short video below.
Note: As always, you can watch the video at full screen by clicking the little "square" icon in the lower-right corner of the video after it begins playing.