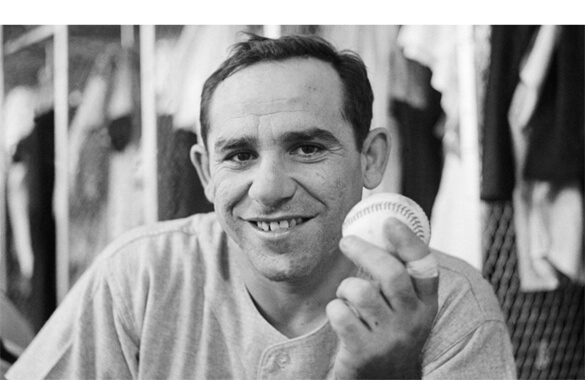 As a youngster, I really loved the game of baseball.
I could rattle off all manner of obscure stats about the leading Major League players, and I could name all the players on my favorite teams, right down to the rarely-seen bench warmers.
In fact, I could even name even quite a few of the hopefuls that were working their way up through the Minors.
Of course like all baseball fans I had my favorite players, and one of my favorites of all time was Yankee great Yogi Berra. 
Although Yogi had hung up his legendary catcher's mitt for good by the time I was old enough to really start enjoying the game, his larger-than-life reputation as both a player and a jokester quickly captured my attention.
And to date, it has never let go.
Yogi Berra played in the Majors for 19 seasons, and coached for several years after that. To say he is a baseball legend would be an understatement.
But today he is remembered just as much for his famous "Yogi-isms" as for his time on the field and in the dugout.
There are dozens of those popular Yogi quotes still floating around, and I guess there always will be. Here are seven of my favorites:
1 – "A nickel ain't worth a dime anymore."
Ain't that the truth? Truth be told, it ain't even worth a buck!
2 – "Baseball is 90% mental and the other half is physical."
Yogi was great at playing and coaching the game of baseball. Basic math, not so much.
3 – "Always go to other people's funerals, otherwise they won't come to yours."
Word to the wise…
4 – "No one goes there nowadays, it's too crowded."
Who knew Yogi shopped at Walmart?
5 – "Half the lies they tell about me aren't true."
I guess that means the other half are?
6 – "We just agree different."
We could use a lot more of this attitude these days.
7 – "Well, if you get hurt and miss work, it won't hurt to miss work. And they give you cash, which is just as good as money!"
Well, I'm still scratching my head over this one.
Of course there are plenty more where those came from, including several that are attributed to Yogi that he never even said. But Yogi being Yogi, he sure could have.
To finish up, here's a short video featuring Major League Baseball's tribute to Yogi Berra after his passing at age 90. Watch, and enjoy…
Note: You can watch the video at full screen by clicking the little "square" icon in the lower-right corner of the video.