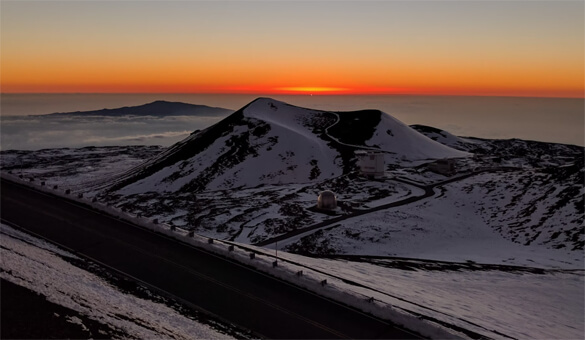 Did you hear about the terrible blizzard that struck Hawaii last winter?
No, I didn't horribly misspell North Dakota, Minnesota or Alaska. I really did mean Hawaii.
As I mentioned in this post, the big island of Hawaii receives snow on its two highest volcanic peaks every winter, and the winter of 2021-2022 turned out to be quite a doozy.
Over the weekend of December 10-12, 2021 Hawaii's twin mountain tops were ravaged by literal blizzard conditions, complete with 100 MPH winds and horizontal snowfall.
Sadly, the lower regions of the islands were inundated with torrential rains and unbelievable flooding while the blizzard was playing out at the higher altitudes.
If you've never watched it snow in Hawaii, check out this incredible time-lapse video of Hawaii's great blizzard of 2021 in action…
Note: You can watch the video at full screen by clicking the little "square" icon in the lower-right corner of the video after it begins playing.
Pretty wild, right?
The entire state of Hawaii truly is an island paradise, but video proves it can also be an enigma.