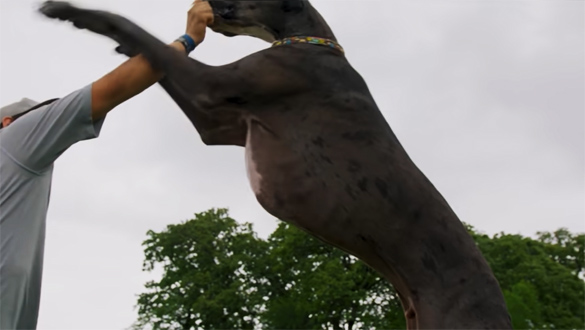 In one of my recent posts I shared a video featuring ten of the biggest dogs in the world.
Today, I'm going to introduce you to Zeus, a Great Dane from Texas who was recently recognized by Guinness World Records as the world's current tallest living dog.
At 41 inches in height, Zeus is a whopper even when he is standing on all fours.
And when standing on his two hind feet he is taller than a human of average height.
But as tall as Zeus is, he isn't the tallest dog that ever lived. That distinction goes to another Great Dame named Zeus.
At 44 inches on all fours, the all-time record holder Zeus stood three inches taller than today's Zeus. And in this context, three inches is a lot.
But hey, any time a dog is taller than an average-height human, that's fairly impressive!
To finish up, here's a cute short video featuring the "new" Zeus. Watch, and enjoy…
Note: You can watch this video at full screen by clicking the little "square" icon in the lower-right corner of the video after it begins playing.