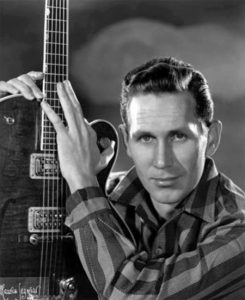 Almost a century ago The Carter Family recorded "Wildwood Flower", one of the first recorded songs to become famous the world over.
Generation after generation of aspiring guitar players have studied the masterful "picking" of Wildwood Flower by Maybelle Carter, and it has been performed by literally thousands of musicians over the years since that original recording was released. 
I have already featured two wonderful performances of WildWood Flower on this blog, first by the super-talented Austrian duo Sensitive Souls and again by Bluegrass great Sierra Hull.
Well, today it's time to enjoy "Wildwood Flower" once again, this time by master guitarist Chet Atkins.
Listen and enjoy…
Note: You can watch this video at full screen by clicking the little "square" icon in the lower-right corner of the video after it begins playing.